Archive for August, 2009
You won't like it when I am angry, suck it up.
Bill Gates was right, the PC belongs in front  of the TV (actually it is a Mac Mini).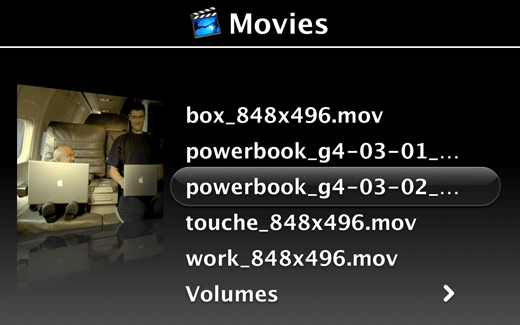 If you're using Front Row to view movies that you've saved to your Mac, you've probably run into an annoying limitation: the Movies menu, in the Videos section of Front Row, and space limitations also and it only shows you the contents of your Movies folder.
If you've got movies stored elsewhere on your machine, you were out of  luck—there's no apparent way to watch them.
With the update of the Mac Mini 2009 the 5 USB slots (yes 5) are a perfect opporutnity to add extra storage.
There's a relatively simple solution to this problem, though, I have not seen advertised anywhere else.
Front Row understands Finder aliases, which means you can add any folders you wish to Front Row's Movies menu.
Let's say you have a folder called My Flicks on an external drive where you store your personal movies. To make this folder usable in Front Row, open two Finder windows—one showing your user's Movies folder, and the other showing your Documents folder, with the My Flicks folder visible. Now press and hold Command and Option, and drag the My Flicks folder into the Movies folder. Holding the Command and Option keys down before you start dragging tells the Finder to make an alias in the destination, instead of moving or copying the folder. (The long method is to select the My Flicks folder, press Command-L to make an alias to it, and then drag the alias to the Movies folder.)
Now launch Front Row, and you'll see the My Flicks folder at the end of the list of any movies in the Movies folder. Repeat this process for any other movie folders you want to use within Front Row.
But what if you're the sort who keeps movies scattered all over your hard drive? You might not want to add 20 folders to the movie listing, in the interest of minimizing menu clutter. So here's how to add every hard drive in your machine to Front Row's movie list, while adding but one entry. In the Finder, press Shift-Command-G (Go -> Go to Folder), and then type /Volumes and press Return. This normally-hidden folder keeps an alias to every hard drive in your machine (along with mounted CDs, DVDs, and network drives). If you drag an alias of the Volumes folder into the Movies folder, you'll have a fully-navigable menu system encompassing your entire system.
To create the alias in Column view mode, press Command and Option and drag the Volumes folder into your Movies folder to create the alias. In List or Icon view, you'll have to use the "proxy" icon at the top of the Finder window—hold down Command and Option, then click and drag the word Volumes out of the top of the Finder window and into the Movies folder.
You can see my Volumes folder at the bottom of this screenshot:
 The small arrow at the right indicates you can drill down into this folder, and then into each drive shown within that folder. You'll even see networked drives, though I don't recommend opening a large movie file sitting on a network server! Thanks to aliases, you can greatly extend Front Row's movie playing powers.
I have spent ages trying to find the perfect media extender and curently have a quadcore PC, cat5 to an xbox 360 connected to my HD TV, but the solution was lacking. I am now having fun with this solution adding the mac mini wasd perfect.
My next additon is adding the ability to record satellite TV to my mac mini (currently done on my Foxtel PVR) but not able to be archived off the box.
I will also be updating this great macwolrd story that was good in 2006 but out of date with the 2009 mac mini http://tinyurl.com/m6mqu9
Original story 'ethos'  from Rob Griffiths Macworld (with thanks)
Posted: August 17, 2009 in
Design
,
Entertainment
,
gadgetry
,
Hardware
,
Internet/Telco
,
iPhone
,
IPTV
Tags:
DAB+
,
Internet Radio
,
OXX Digital
,
WIFI
Now to ' Un-confusify' it all.
Covertly arriving in July 2009, the new standard in Radio is now here in Australia along
with loads of hardware (radios) to choose from.
And believe me it is confusing.
The OXX Digital DAB+ Radio (Classic) offers the best value and list of quality features, and style.
To those in the know, (many UK ex-pats, audiophiles and geeks) this is a BIG deal.
Australia was an early tester of DAB radio but failed to agree the standard for
some time. By the time the standard was agreed the technology had moved on and Australia
opted for the newer better quality standard.
The bad news for some early adopters is that the old standard and new standard uses different radios  for the 12 months testing period. This means some folks in Australia outlaid as much as $2000 for hardware that is now useless as all of the old stations have been turned off.
For the smart ones that had never heard of DAB Radio or waited, the good news is there is plethora of new hardware landing all over Australia and a slew of new DAB+ radio stations waiting for you to tune in.
What is the difference between DAB+ and DAB
Simply the old DAB radio dates back to the 1980's and remains virtually unchanged to this day. In 2003 better quality DAB+ Radio started to emerge offering quality twice as good or better.  The DAB system uses MP2 Audio Codecs and the DAB+ uses mainly the AAC format.
Now What?
Well this is the good news. Hardware (radio) suppliers have had a good 2 years to ramp up supplies, and distribution for the new radios. Additionally other technology has come into being in the radio world that creates the confusion, but the best opportunities as well for the consumer.  This includes IP (Internet Radio), Pod casting, Streaming, iPOD/iPhones , as well as the normal FM and new
DAB+ stations as well all becoming part of the crowed radio market at can offer  a different radio for every use as well as Mobile (car) Stereos.  The different radios other than the traditional am/fm are:
DAB+
- The new driving force for the convergence of technologies, offers CD quality sound via radiostations. As mentioned there new stations coming on line everyday offering high quality News, Music, Sports and more 24/7.  The screens on radios offer the music track names, artists, station information and more.
WIFI- IP (Internet Radio) –
Amazing in its own right, this kicked off in the 1990's and offersa choice of 11,000 plus stations from all around the world. Amazingly stations can be selected by country, genre and even sometimes (NOT ALWAYS) by individual stations down to its Internet URL.  It uses your own Internet connection (works only if you have WIFI or a wired Ethernet connection)
WIFI Streaming-
Having your internet around the house means you can now stream from your PC to some radios, or via the wired Ethernet connection mentioned above.
iPod /iPhone- Adding your on iPod to a radio, is easy now with a docking station added to the top of
many radios.
Consumer Choice  –
The good news for the consumer is you longer have to go to specialist stores to find DAB+ radios, instead you can pop down to your favorite retailer and some (like Harvey Norman) have done a good job of stocking their stores but as of August 2009, training is not good and no one seems to know the difference in quality or features, and in the case of Harvey Norman even have DAB+ radios in 2 different departments (being they are different franchises in the store) but the selection makes them a good contender as the best. Also many DAB+ radios can be purchased online for a bit of a saving, I still prefer when possible to handle the merchandise, even if I purchase it online afterwards. Again to date online costs do not seem to be less than Harvey Norman, so bear that in mind.
Which brand of Radio? -
With as many as 50 radios on the market it can be a bit of a
minefield and the purpose of this article.
Misc -
There a plethora of suppliers already from Bush, Sangaen, Grundig but the main ones are below.
Pure-
When I was testing the old DAB radio standards. Pure were the only real quality players out
there and I am pleased to say they seem to be the leaders in offering choices in mostly DAB+ only radios here in Australia in every shape and size and around 20 models to choose from .  I find the
quality of their lower priced units (around $300) not good quality. Their better units (like the evoke 2-s ) are $600+ and again way overpriced I think for the marketplace). Unfortunately I believe they have missed the boat a bit and do not seem to be making the best of all the other technologies mentioned above.
Pros-  Good selection with over 20 radios to choose, from now easy to find and price points from $200.
Cons- Not a big fan of the styles they offer and low on features, overpriced at mid-high  end. Entry level models feel cheap.
Roberts Radios -
An institution in Radios for 75 years globally makes outstanding radios in all shapes
and sizes  but again I feel are a bit overpriced in the marketplace.
Pros- good quality, high end radios
Cons- not kept with the times low on
features except the more expensive models, overpriced.
OXX Digital-
Based in Sydney they are  a Danish company not a name you would know
but I believe make the best DAB+ radio on the market, not  just on features  but  thebest value as well. Only the Roberts radio (at $500-800), offers the featuresof the OXX   –   http://oxxdigital.com, with DAB+/FM/Internet Radio (all  11,000) stations /streaming/and more.
Pros- great looking, perhaps in a league of their own, great value for money. Best feature is the favorite's button that has UK BBC stations pre-programmed in the Internet Radio mode.
Cons- none to mention really, they have not truly launched with a bang yet, so not a huge selection to choose from but with these features who cares, you might find yourself getting more than
one.
More Technical info is available here : http://en.wikipedia.org/wiki/Digital_Audio_Broadcasting